JUSTIN AND AUSTIN WORKED QUICKLY TO GET ME INTO A CAR WITHIN MY BUDGET AND ONE I LOVED. HIGHLY RECOMMEND! Reference: www.drivehub.us
By far the best vehicle purchase experience. The guys were very easy going and easy to talk to, no pressure no haggling. Got a fair deal on my trade compared to other places. The whole process was super fast. I would definitely recommend and return to this business for future purchases.
Would recommend Drivehub over and over. Bill started off strong with very quick responses to my email inquiries about a truck on their lot. The offer was too good to not take the 90 minute drive to check it out. The men on the showroom floor were warm and welcoming from the start. Bill was very laid back and helpful. I never felt pressured to make a purchase. Hubby and I took it for a quick test drive and fell in love. Bill got our paperwork filled out efficiently and recommended gap insurance and had a great warranty to offer. I passed on the gap and accepted the warranty. He didn't put anymore pressure on the gap insurance but gave us helpful information about the warranty company that is based out of Orlando. All in all it was a pleasant experience and I would buy from them again.
I had a great experience purchasing my truck. Bill was courteous and professional helping me find the best diesel ford truck. He found me the best interest rate. The owner was also kind. They deserve five stars. Thank you for a pleasant experience.
THANK YOU GUYS!!! Micheal and front desk lady made my purchase of this 2017 Ford Focus SE so easy. We were in and out the door in less than 2 hours. Beautiful clean used cars, and they filled up the tank as a complimentary bonus.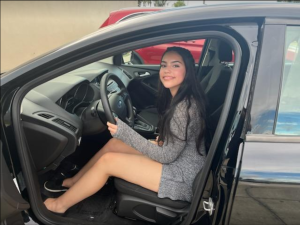 From being picked up at my home to the entire purchase process, the experience was seamless and professional . Found the right financing at my request , another painless experienced with Drivehub . The General Manager, Kevin actually called me up and walked me through the process when I had a question. Smiles from everyone, and good vibrations. The usual drudgery of car purchasing with rude salespersons who have condescending attitudes was not here, just a lot of love . Five Stars to DriveHub of New Smyrna Beach Especially my awesome salesperson Norman ; many thanks ! Reference: www.drivehub.us
Michael was very professional about getting me into my vehicle, knowledge of the vehicle was spot on, and answered my questions without hesitation. Would definitely go back again, whenever I'm looking for another one. Reference: www.drivehub.us